Foreign currency payments for your business.

With a multi-currency account you can easily fly funds around the world, while avoiding painful conversion fees.
Open your account
Trade with the world.
More easily.
Gone are the days when trading in different currencies was a hassle. Now you can easily trade GBP, PLN, USD and EUR . And you can apply for a business account online, so there's no need to travel to a physical branch.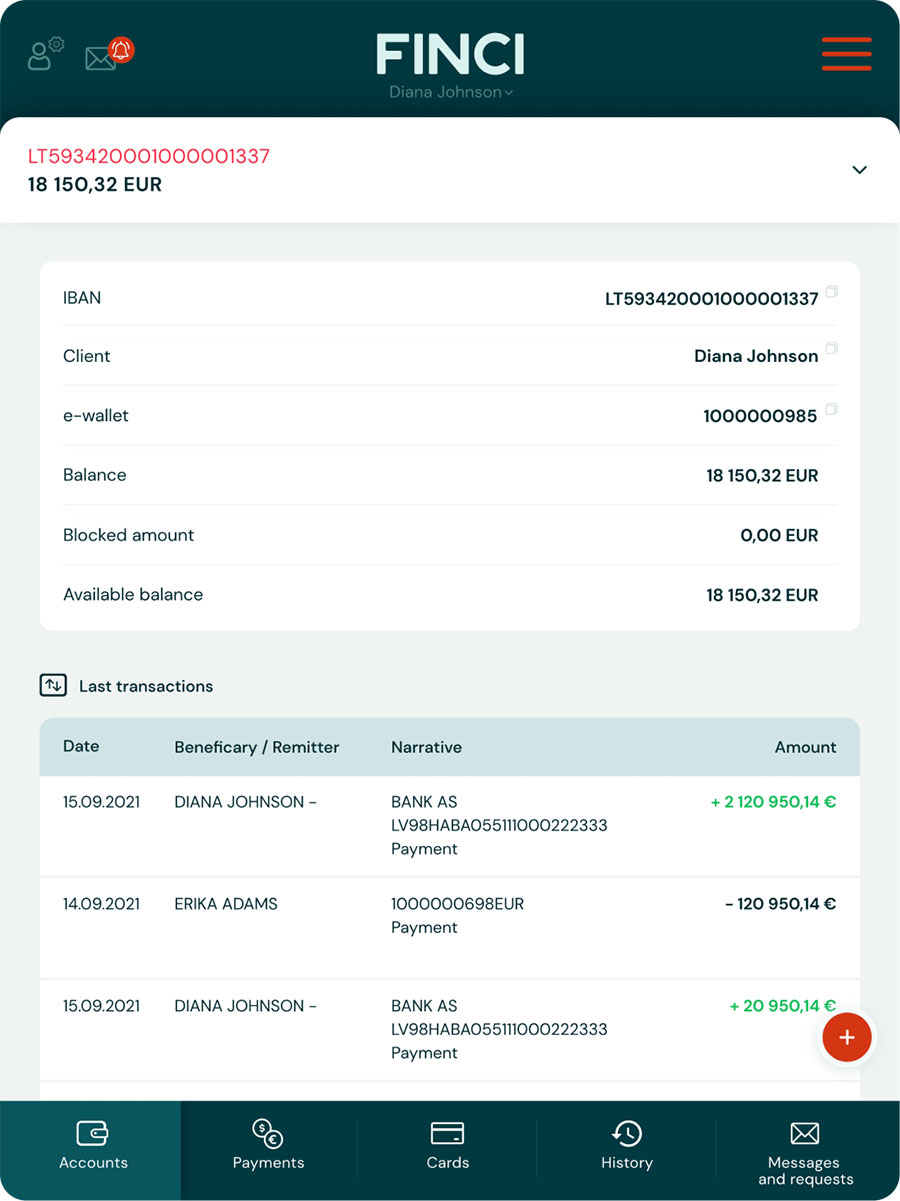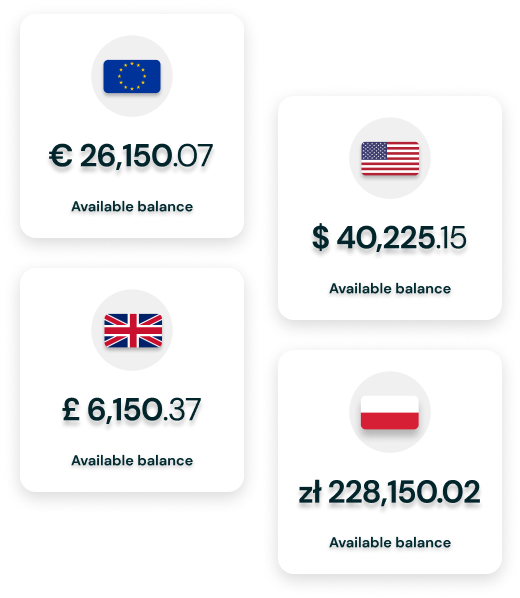 Why get a FINCI business account?
Reduce currency conversion costs

You can avoid the expensive currency conversion fees that banks typically charge and make international business more cost-efficient.

Access one international account

With a multi-currency account, you can make and receive payments in different currencies without having to open separate accounts for each one.

Improve cash flow management

With the ability to hold funds in different currencies, you can better manage your company's cash flow and take advantage of more favourable rates.

Get a personal support manager

Your team will get access to a dedicated account manager – a banking expert that will get to know your unique business needs and deliver personalised service.
Serving businesses across the globe
FINCI has experience working with over 1000 businesses in 31 countries. And we have specialist expertise in supporting complex business structures, with specific know-how in industries such as…
Aviation
Logistics
Maritime
Wholesale
Trading Companies
Technology
Your business account at a glance
Send money anywhere
Get access to SEPA and SEPA Instant for faster European payments.
Our SWIFT membership connects you to 11,000+ financial institutions.
Our correspondent banks provide global transaction coverage.
Pay everywhere easily
Access your account any time with our mobile app or online bank.
Get help from our team of account managers who are ready to serve.
Export your transaction history in CSV, PDF, Fidavista, XML and other formats.
Business-class service
Just like on a business-class flight, we understand the importance of exceptional service. So you can count on us to provide high-quality human support, when you need it. And we're committed to finding customised solutions for your business.
Open an account today
Global
Global payments in minutes, not days
In addition to traditional payment options, you can now make instant blockchain-powered payouts from EUR to MXN, INR, and GBP.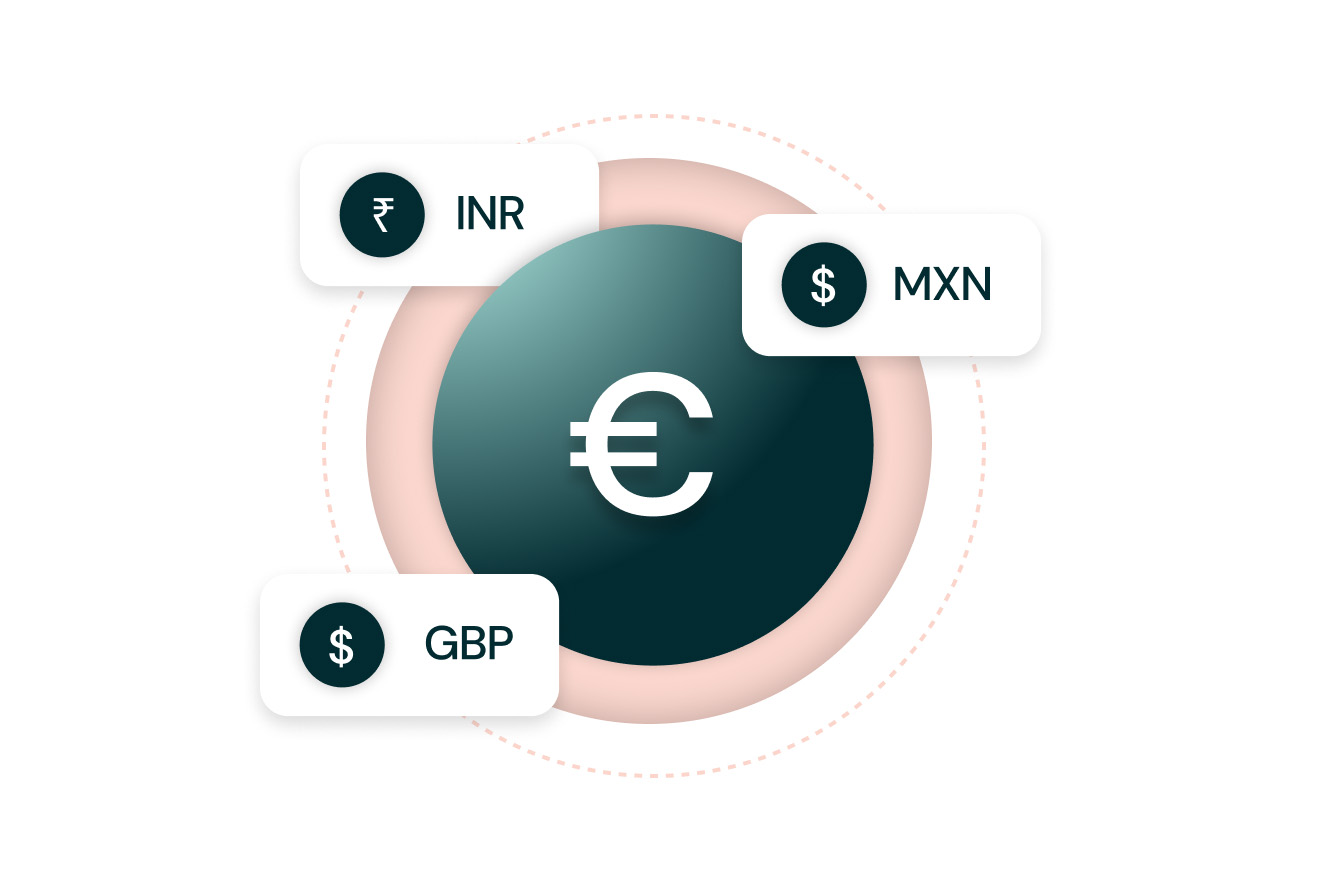 Learn more
Debit cards that look the business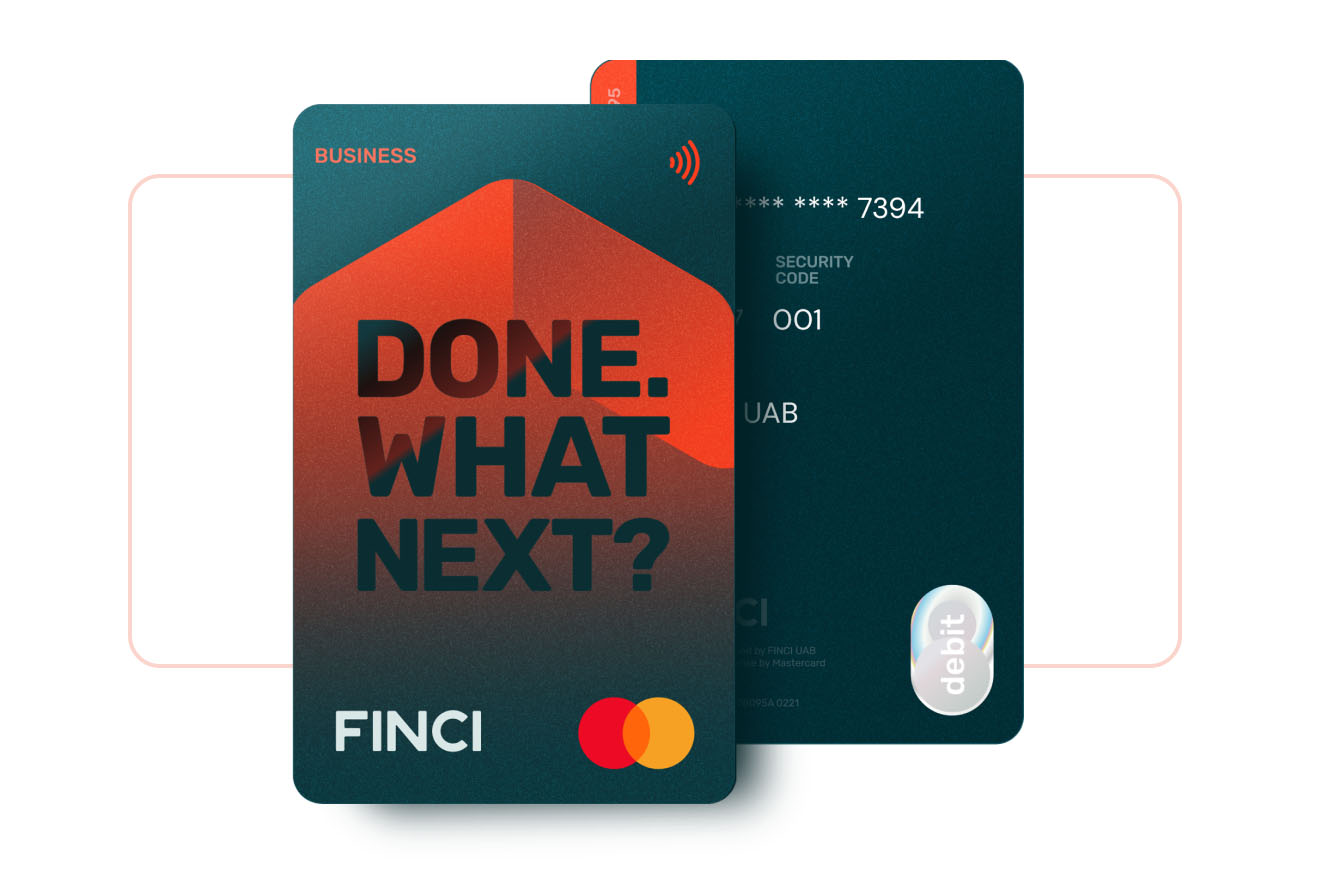 Get stylish digital and physical debit cards to pay for corporate expenses. Easily order, manage and control all your cards and spend from your business account.
Learn more
Choose your business plan
Choose your business plan
The first verification of Client's documents
Account Opening
Unlimited multicurrency accounts
Free payments between FINCI accounts
International payments in foreign currencies
Free digital payment cards
Priority Customer Service
10 EUR
5 EUR
25 EUR
15 EUR
100 EUR
50 EUR
1000 EUR
120 EUR
Securing your peace of mind

FINCI is a Lithuanian-based authorised Electronic Money Institution with full EU passporting. We prioritise the protection of your funds and personal data through advanced data encryption, digital certificates, and sophisticated risk and fraud monitoring.
How we keep you safe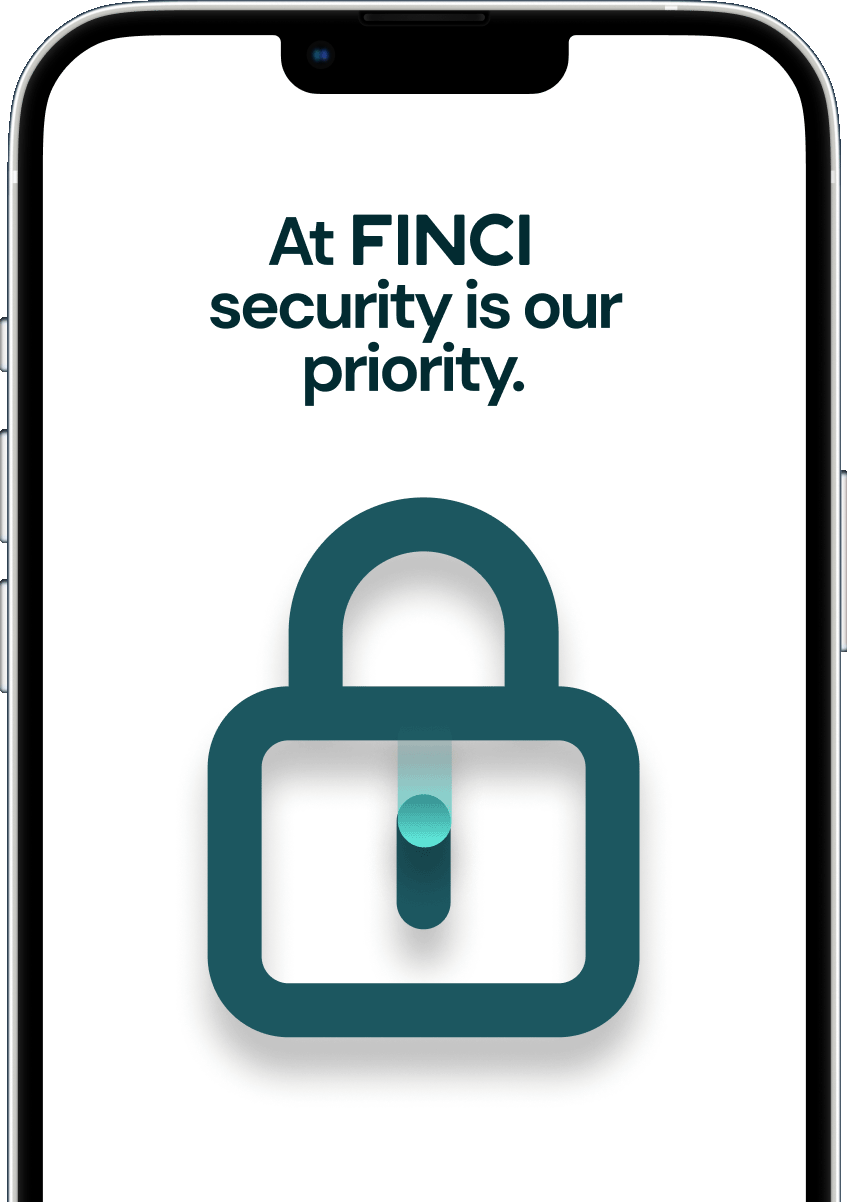 Open a multi-currency account in hours
Our fastest time to open a business account is just 82 minutes. But that's a record. It could take anywhere from a couple of hours to a couple of days. Watch this video to see how to do it.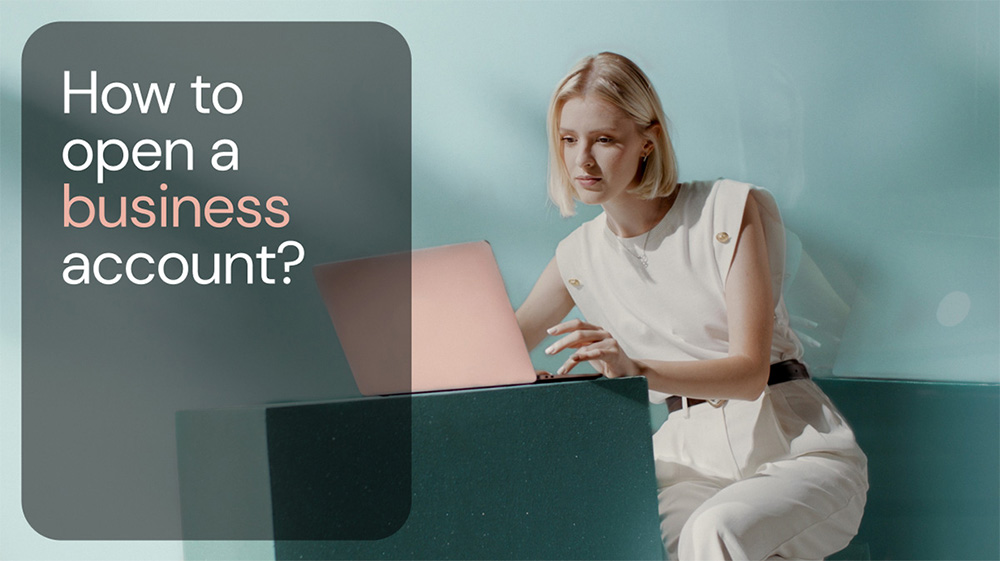 Common Questions
Common Questions
How long does it take to open a business account?

What documentation is required to open a business account?

Do business customers get priority support?

From what countries can I open a FINCI business account?

Can I open a FINCI Business account if I live outside the Eurozone?

How do I make sure our debit cards work when we're travelling?

What happens if one of our debit cards goes missing?

What if one of our cards is definitely lost or stolen?
Get more useful business services
Instant Global Pay-outs.

Waiting days to send money across borders is a competitive disadvantage. With FINCI, you can send money instantly from Euro to multiple currencies, making it easier than ever to pay your suppliers, employees, and partners around the world. 


Learn more

FINCI Debit Cards.

We offer a range of Mastercard-powered physical and digital debit cards when you open any FINCI account. Quickly connect to Apple and Google Pay for fast and secure payments. And easily manage your cards from within the Android or iOS app. 


Learn more

SWIFT global payments.

Securely send payments anywhere on the planet with SWIFT. You'll enjoy reliable, transparent and traceable payments in a network that covers 11,000 member institutions in over 200 regions. It's the payment network the world relies on. 

Learn more

SEPA European payments.

With SEPA you can securely transfer large sums across 36 European countries. And with SEPA Instant you can do that in just 10 seconds. You'll do business faster and ensure you pay suppliers and partners on time, every time.

Learn more

Android and iOS mobile app.

With the FINCI mobile app available to Android and iOS users you can quickly manage your money and get on with your day. Send money to friends, pay bills, track spending, and freeze cards all with a few taps.

Learn more

Escrow account protection.

Open a temporary escrow account to securely and efficiently complete one-off high-value transactions – it's the smart way to reduce risk and protect both parties. Open an escrow account online in less than 24 hours with our express service.

Learn more